Posted by Nicole Lininger | Filed under InventHelp
InventHelp® is excited to announce we are working together with George Foreman! Foreman, an entrepreneur himself, has signed an exclusive long term partnership with InventHelp and will star in a series of national television commercials, as well as social media and marketing campaigns. He will also appear at the company's annual invention trade show, INPEX in June of this year.
According to InventHelp President Robert Susa, Foreman is an exciting and fresh addition to the InventHelp family. "We are thrilled to work with George Foreman in 2014. I know that his drive and experience with new products is a perfect fit for our company. We're honored to partner with someone so accomplished, well-liked and respected as George. I couldn't be happier to feature him as the new face of InventHelp."
Posted by Nicole Lininger | Filed under InventHelp
The biggest announcement in InventHelp's 30 year history is coming Monday, February 3, 2014 at 2:00pm EST. Check it out on the InventHelp website and social pages.
The countdown starts now.
What are three traits Kevin Harrington thinks a successful inventor should have? Watch to find out!
Want to see more? Check out all new exclusive video interview questions with Kevin to be released Wednesday mornings on the InventHelp facebook page. Don't miss out!
The video cannot be shown at the moment. Please try again later.
We are excited to present you with an opportunity to pitch your product idea LIVE to former Investor Shark and InventHelp's new company spokesperson, Kevin Harrington, and have your product featured on www.HangWithAShark.com. One participant each week will win a special prize and have their questions answered by Kevin Harrington himself. Hang With A Shark is a way to expose your product and yourself to thousands of people. Read More >>

InventHelp is pleased to announce that Kevin Harrington, chairman of As Seen on TV, Inc. and a former investor shark on ABC's hit show Shark Tank has signed an exclusive deal with InventHelp to act as the company spokesperson. Kevin will be featured in a series of national television commercials alongside the company's iconic caveman. Read More >>
Posted by Nicole Lininger | Filed under InventHelp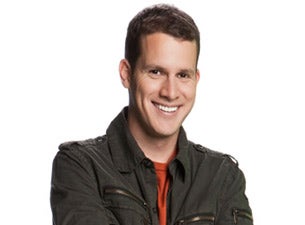 We'd like to thank Daniel Tosh from Tosh.O for mentioning InventHelp! He made a joke using our disclaimer: "Most inventions are not successful." We applaud Daniel for further solidifying InventHelp's reputation as an honest invention company. You may be wondering why we prominently feature that line about success in our advertising… Read More >>